Just about the time we finally get our Christmas decor put away "BAM" it's Mardi Gras. This year it really snuck up on me. Check out the schedule. This is a list of all the parades and dates. Great web site to bookmark. Bottom Line-Mardi Gras Day is in 24 Days/5Hours/38minutes minus about an hour with the time that it will take me to finsh this blog. But that's just Mardi Gras Day. Folks, the festivities have long started.
http://www.mardigrasneworleans.com/
I decided to step up the plate this year with my Mardi Gras decorations. I was feeling pretty energetic and festive so it was off to Hobby Lobby and Gordon's to add to my purple, green and gold ensembles. I had just about secured all my props so I went into full decorating mode only to be abruptly stopped in my tracks. And I do mean tracks. You see I decided to swap out the Christmas lights in the flower bed with some Mardi Gras lights. I delicately draped them through the flower beds and proudly plugged them in for their big debut. As night sets in so does my daughter. She was returning from a trip to North Carolina/South Carolina, Georgia and anywhere else she could find in between. After a quick reload we walk her out to the car to see her off to school. After a quick hug and a wave off she went. So I Thought. As she is rolling out of the driveway I hear her yell "MOM" from her car window. "The Mardi Gras lights don't look good. " You can't really see them" "You need to move them up higher". Well okay! A quick step into the flower bed followed by a slow reversal out landed me straight into the St Tammany Emergency Room. Imagine that! You know when the security guard knows you by first name there is a problem. Five hours later (and that's a record my friends) I am sent home with a brand new black boot that the
kardashian
sisters would be envious of.
Most recent picture with the swelling somewhat down,
Blah, Blah, Blah.
Bottom Line is I have an avulsion fracture that entails three weeks of non-weight bearing activity and an elevated cankle. Yep, that's where you come in (
ALL 16 OF YOU
) that follow my little blog, which by the way I now consider a medical journal. You see I didn't lose my typing privileges so your ----- out of luck. SERIOUSLY!
But enough of that-I want to share a couple of things that I have run into in my bored quest to amuse myself.
I think the best kept secret is finally out.
PINTEREST
I have been pinning for sometime now and I am still in awe over the creativity that so many people have shared. WHO KNEW? It really is the coolest web site I have ever seen and has something for everyone. I have even started seeing men Re pinning. The recipes are incredible. Here is one that I recently tried however I used my own version. Basically I cheated!
King Cake Cupcakes
2 cans of Cinnamon Rolls
Brown Sugar
Cream Cheese
Almond Extract
Place a Cinnamon Roll in a cupcake liner. Press a hole into the middle.
Combine about 1 cup of brown sugar, 1/2 package cream cheese and one little dash of Almond extract. Mix and then fill each hole in cinnamon roll. Ice top of cupcake with glaze that comes with Cinnamon rolls and cook according to instructions I like mine sort of undercooked.
Sprinkle with yellow, green and purple sugar or anything Mardi Gra-ish.
That simple!
Here are a couple of more cute ideas I found here and there.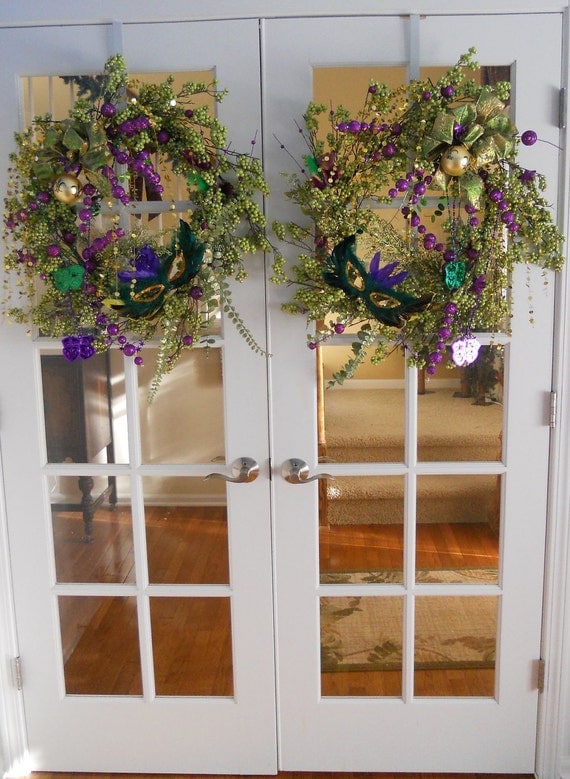 http://www.etsy.com/listing/90461779/set-of-two-mardi-gras-wreaths-carnival?ref=sr_gallery_32&sref=&ga_includes%5B0%5D=tags&ga_search_query=mardi+gras+wreath&ga_page=1&ga_search_type=all&ga_facet
=
This was on Etsy but is already sold. But a cute idea!
Baby Tripp has the world hard at work bringing Awareness to EB.
And finally as we continue to mourn Baby Tripp I am still in amazement with all the people that are working tirelessly to help with EB Awareness. Check this one out. One of our very own here in the New Orleans is Scott Walker He will be raising money for EB by running the Rock'n' Roll Half Marathon on March 4th. Help him out if you can!
Scott Walker
http://www.crowdrise.com/runningfortripp/fundraiser/scottwalker6
BENEFITING:
Dystrophic Epidermolysis Bullosa Research Association of America, Inc.
EVENT DATE:
Mar 04, 2012
DEADLINE TO GIVE:
Mar 04, 2012
HERE'S THE STORY:
I'm running the Rock 'n' Roll Half Marathon on March 4 in New Orleans in memory of Tripp Roth, to heighten EB awareness and to raise money for DebRA of America - the Dystrophic Epidermolysis Bullosa Research Association.
Please help bring me bring attention to this horrible disease.
Tripp
was born May 14, 2009. He died on January 14, 2012.
Tripp, who lived with his mother in Ponchatoula, was diagnosed with a rare genetic skin disease called "EB." Any type of friction on his skin caused painful blisters. Doctors said he wouldn't live to be a year old. He made it two-and-a-half years before losing his long, brave battle.
But the fight in his honor continues.
You can read more about Tripp's journey here: http://www.randycourtneytripproth.blogspot.com.
ANYONE WHO WOULD LIKE TO JOIN MY TEAM (YOU DON'T HAVE TO RUN) AND RAISE MONEY FOR EB AWARENESS, CAN EMAIL ME AT SCOTTWALKER@HEARST.COM